I know it's been a while since I've done a Cincinnati Zoo post. Time to rectify that. I believe I posted about John and Imani, the zoo's power couple.

They had kids! Three female cubs, named "Huruma," "Kya," and "Willa."

I'm afraid that, in spite of good guidance, I can't tell them apart. One was sitting close to her parents.

The other two stayed by the fence.

Relaxing…

…until one of them decided it was playtime!

Nearby, were Imara and Brahma, the African painted dogs.

They had ten pups, all with "Batman"-themed names.

The "Batman" theme started with one, Joker, who seems to have a question mark on his back.

They had paper Easter eggs in their enclosure as enrichment.

It was fun to watch them scamper about.

Just watching them wore the bat-eared fox out.

As we left the Africa area, we watched a cheetah take a bath.

We stopped by the nursery to see Zeke, a serval cub. He was about eleven weeks old when we saw him.

It was late in the day, so mostly, he wanted to groom himself…

…and take a nap.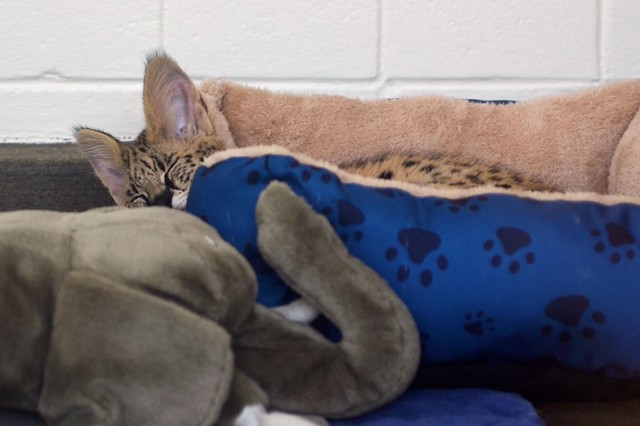 We had to stop and say "hi" to Nubo and Renji, the snow leopards.

Our visit began as a lazy afternoon.

But Nubo saw something.

He stalked towards it. I was confused, and fixated on the cats.

Renji joined him. Some idiot kids jumped a barrier, and went to a side of the enclosure not accessable to the public. Not cool!

It did stir them up a bit.

Nubo jumped up on an off-camber…he handles them so much better than I do.

He's such a handsome cat!

On the way out, we saw a peacock, who wanted to show off.

It was fun to see all the cats, dogs, and babies!