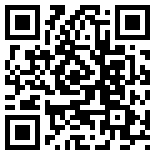 I wanted to get everyone's opinion of QR Codes. I've been tumbling this in my head for the last week or two, and wanted to try to get some more feedback.
A QR Code is a "two dimensional" barcode. While they have other uses, the most popular is to easily redirect someone to a web site via a sign or flyer in the "real world." The idea is you take a photo of it with a SmartPhone application. The app will then convert the barcode into a text stream, typically a URL. In a way, it is an idea very similar to the CueCat in the mid-to-late Nineties, except that the blend of technology and mobility have caught up to provide some utility.
I started pondering the QR Codes recently when I saw an opportunity to print up some business cards for free. The idea of having some personal business cards seems handy. I could use them for contacts that are not work related, but that I would want to be able to get in touch with me. Obviously, it would have some basic contact information (name, some description of who I am, etc.). In addition to some basic contact information (a phone number and an e-mail address), I had the notion of putting up a web page with "expanded contact information," to include this blog, my twitter account, LinkedIn, etc. I had the idea of putting a QR Code link to this page on the reverse side of the card, to allow easy access.
I started having second thoughts when I simply thought about the QR Code. Quite frankly, they are somewhat ugly from a design perspective. Putting it on the back of the card would help. But how difficult is it to type in a short URL?
Then I had second thoughts about QR Codes in general. I started reading about QR Codes being a source of malware. Since you can't see what the QR Code is until you scan it, I can see where the risk increases. While the same is true of URL shorteners, there are typically options to see what you are referred to. Also, there is a big difference between a random code on a flyer and something that can clearly be traced back to major business or an individual, such as my card.
What are your thoughts? Is the utility of a QR Code worth putting it on a card, or are they unnecessarily ugly and less-than-trustworthy?
The QR Code above simply links back to my blog–nothing to worry about!